In the realm of fishing suspending jerkbaits, there comes a period when smallmouth bass grow conditioned to the baits being presented before them. If lucky enough to enjoy 100 fish days with a hardbait, there is a high probability many will grow wary of it. The solution to trigger more strikes from conditioned fish is to adjust the presentation to something similar, but different. Entering the picture is a suspending fluke.
Lake Profile
Size: 900 acres
Lake Type: Raised Mesotrophic
Maximum Depth: 55 feet
Avg. Depth Fished: 5 to 10 feet
Water Clarity: Dark Brown
Primary Fishery: Musky, Walleye, Smallmouth Bass
Areas of Focus: Offshore points and sandbar complexes
Time of Day: Late Afternoon
Rod & Reel: 7ft Quantum Energy (med. heavy) Quantum Energy 30PTi spinning
Line: Cortland Camouflage 8 lb.
Lure Used: Stankx Bait Company Flukez (Diablo)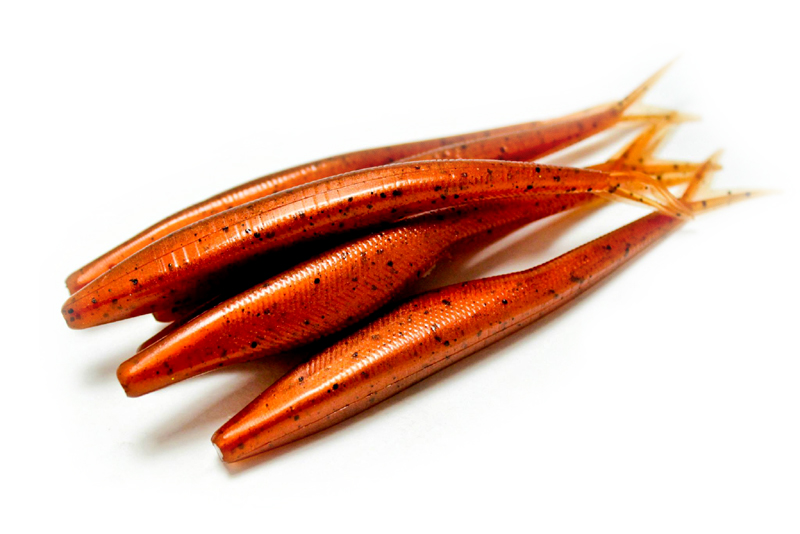 I classify jerkbaits by two types: Softbait and hardbait. I fish both styles differently depending upon what conditions and fish feeding moods dictate. I also fish them head-to-head, often complimenting one another on separate rods. I also fish them on days like this when pressured fish grow conditioned to one presentation, and are in favor of the other. Typically, I'll fish soft jerkbaits for less aggressive fish (finesse and sight fishing), and hard jerkbaits for active aggressive fish and as a reactionary bait during coldfront and cold water periods. Both are deadly options in the spring regardless of water temperature, and when one isn't working as well the other will work as the better alternative. In this manner, the fluke serves as my clean-up crew for smallmouths responding to jerkbaits.
Soft jerkbaits in the "fluke" style rigged weedless and weightless are my favorites during these unique situations. The best soft jerkbait I put to use in a variety of situations is the 4 inch Stankx Bait Company Flukez. I fish them exclusively with a Lazer Trokar HD 2/0 Worm Hook, and in weightless presentations a Lazer Trokar 2/0 Magworm. The magworm is a heavier worm hook, and its oversize shank and bait-holding collar serves as the requiring weight, thus allowing the bait to suspend without any lead inserts.
Fished similarly to a suspending jerkbait such as the X-Rap, with the same cadence and aggression, flukes will stay in strike zones longer, float higher in the water column, invite conditioned fish, and entice strikes from fish that have either been previously caught or grown disengaged altogether. Best of all, they can be deadsticked and avoid snags – characteristics that play HUGE in the snag filled shallow spring habitats smallmouhs prefer.
On back-to-back days in early May, I capitalized on a hot and ferocious smallmouth bass bite on offshore complexes near deep main lake holes. Water temperatures were in the mid to high 40's, and fish were gradually following their underwater structure trails en route to spring staging areas. This was a classic early spring feeding migration in unpleasant weather and cold conditions that were everything but comfortable. It even snowed steadily at one point.
Following ice-out, and as waters stay cold throughout spring, make it a priority to compliment your suspending jerkbaits with the fluke minnow alternative as exemplified in the video above. There will come times when both will work simultaneously, or one will work better over the other. Let the fish decide for you and if they ever grow conditioned in this manner, the fluke will change the minds of smallmouths and bring them to aggressive feeding levels once again.